Hollywood NOW is celebrating WOMEN IN THE ARTS for Women's HERstory month 2012.  More info available here.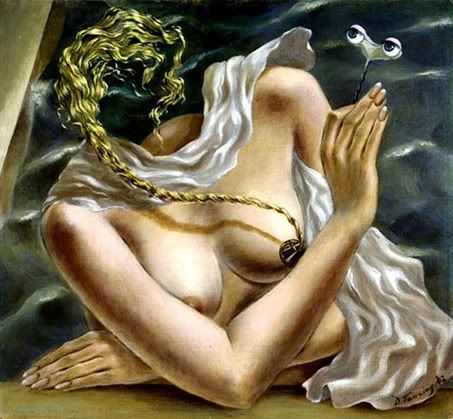 Dorthea Tanning
LACMA  Jan 29 - May 6, 2012
North America represented a place free from European traditions for women Surrealists from the United States and Mexico, and European émigrés. While their male counterparts usually cast women as objects for their delectation, female Surrealists delved into their own subconscious and dreams, creating extraordinary visual images. Their art was primarily about identity: portraits, double portraits, self-referential images, and masquerades that demonstrate their trials and pleasures. The exhibition includes works in a variety of media dating from 1931 to 1968, and some later examples that demonstrate Surrealism's influence on the feminist movement. Iconic figures such as Louise Bourgeois, Leonora Carrington, Frida Kahlo, Lee Miller, Kay Sage, Dorothea Tanning, and Remedios Varo are represented, along with lesser known or newly discovered practitioners.
Untitled (President: 2), Sherrie Levine, 1979, Collage on paper, 24 x 18 in
How am I just learning of this now? At the MOCA Los Angeles through Oct. 10, 2011: 
"Narrative, biography, and gender identity unite the works included in this permanent collection exhibition. Borrowing the title from a radical 1969 essay by feminist activist Carol Hanisch, the term political is used here in the broadest sense, not to reference the electoral process, but to signify power relationships in contemporary culture. Within this gallery, the personal vantage point of each woman artist shapes the content of the work. Included is the work of Senga Nengudi, Adrian Piper, and Hannah Wilke, among others."
From the group exhibition "Soft Machines" at the Pace Gallery: "As part of the exhibition, Kate Gilmore will debut a new performance, entitled Through the Claw. Throughout the duration of the evening, five women in pale pink dresses and heels will rip apart a large clay cube while also hurling it at the wall, critiquing the social construction of gender and male-centric art movements. After the performance, the remnants will remain in the gallery as an installation for the remainder of the exhibition." (Photo courtesy of Benjamin Sutton)